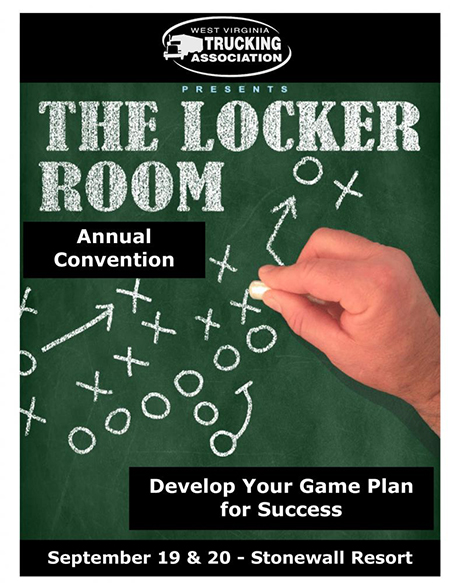 Our
2017 Annual Convention
is coming up
September 19 & 20
at
Stonewall Resort
in Roanoke, WV!
We have put together a great event you don't want to miss!
At this event we will help you get your game plan together to

help your team win at a roadside inspection!

We will have Reggie Bunner of the WV PSC and his team joining us to show us what to expect during a roadside inspection. Confused about ELD's? Want more information on CSA? Reggie will answer your questions!
How's your tech game?
We will have Jamie Summers-Brown with us to tell us about three great apps you should already be using for your business! How's your recruiting? Jamie will walk us through our
Truckingjobswv.com
site and show you advertise your jobs.
We have a whole lot more packed into this event that you don't want to miss!
Registration materials are available here.
Reminder - Please make your room reservations for Stonewall Resort. You will need a reservation for the night of the 19th only, since we will be concluding our program at noon on the 20th. Our room rate at Stonewall is $129. To make your reservations, please call 304.269.7400. The cut-off date to make reservations is August 20th.
Also, if you are a golfer, you may want to join
OMEGA at their Children's Charity Golf Outing
on the morning of September 19th! All money raised at this event will go the capital campaign the Children's Home Society has started to fund the Jan Vineyard Lifetime Center for Permanency, which will be there primary adoption facility. What a way to honor Jan's legacy! Registration materials are
available here.