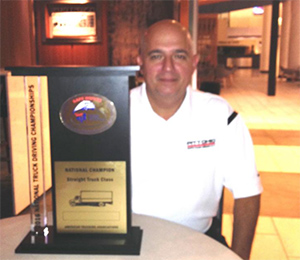 Charles Randolph, a professional truck driver with Pitt Ohio and a resident of Belle, was named national champion in the Straight Truck class at the American Trucking Associations' National Truck Driving Championship this past weekend. More than 440 professional truck drivers from across the country competed in the event, which was held in Indianapolis, Indiana.
"We are extremely proud of Charles," said Jan Vineyard, president of the West Virginia Trucking Association. "He is the first driver from West Virginia to earn a national title since 2004. This honor signifies that he is one of the most skilled and experienced truck drivers in America and he is representative of the elite drivers we have in West Virginia."
Vineyard said Randolph has been a professional truck driver for 35 years – 27 of those with Pitt Ohio – and has driven more than 2.4 million miles. He qualified for the national competition by earning first place in the Straight Truck class during the West Virginia Truck Driving Championship, which was held in Charleston in June. He has competed in eight state level championships, winning his class of competition three times. Randolph has competed in three prior national championships.
Additionally, Nick Backes, a resident of Hurricane, who is also a driver for Pitt Ohio, placed fifth nationally in the Tanker Truck class.