September 11 - 17, 2016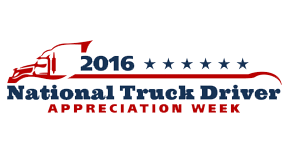 Next week is Truck Driver Appreciation Week! We are thrilled that Governor Earl Ray Tomblin has proclaimed next week to be Truck Driver Appreciation Week in West Virginia and will be presenting the proclamation to Pitt Ohio Driver Charles Randolph on Tuesday, September 13th. Randolph, who just won his class of competition at the National Truck Driving Championships, will accept the proclamation on behalf of all of our wonderful West Virginia truck drivers!
We hope you have plans to honor your drivers next week. We would love for you to email us and let us know what you are doing for your drivers so that we can share it on our Facebook page.