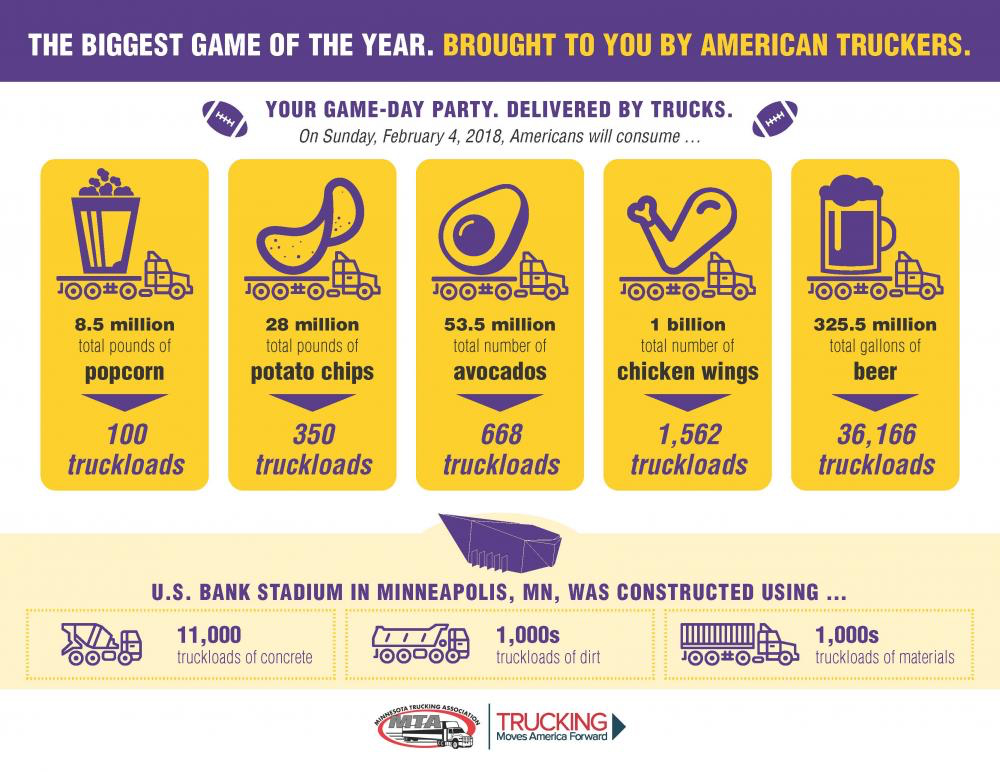 With America's biggest game of the year headed to U.S. Bank Stadium in Minneapolis, Minnesota this weekend, millions of Americans are already planning their Gameday parties. While planning the menu, have you thought about how all those classic football foods get to your table? The answer is simple: Trucks.

To illustrate just how big of an impact the trucking industry has on the big game, the Minnesota and American Trucking Associations created an infographic (below) to show the role trucking will play in delivering perhaps one of most important parts of the game…the snacks. On February 4th, Americans will consume over:
100 truckloads of popcorn
350 truckloads of potato chips
668 truckloads of avocados
1,562 truckloads of chicken wings, and
Over 36,166 truckloads of beer.
That's a lot of food!
While the food and drinks are arguably one of the best parts of the big game, trucking also plays a vital role in delivering products that impact every part of the big game. In addition to the thousands of truckloads of construction materials it took to build U.S. Bank Stadium, trucks will deliver everything from sports equipment, production equipment, paper products, fuel to get everyone to the game, and much more! Not to mention all the truckloads of materials for the events and experiences leading up to the big game across the twin cities.
So, when you sit down to watch football on February 4, take a minute to think about all the trucks it took to deliver America's biggest game.
If you've got it, a truck brought it!