On Saturday, June 8th, WV Drivers competed in the 2019 WV Truck Driving Championship. Congratulations to our Truck Driving Championship Winners!
During the reconvened session of the Virginia General Assembly
on April 4
th
, Governor Northam proposed, and legislators approved, a new fuels tax of 7.6 cents per gallon for gasoline and 7.7 cents for diesel.
This tax takes effect on July 1
and will be imposed at all stations along the I-81 corridor - 325 miles from Bristol to Winchester
. Working in conjunction with DMV, the Virginia Petroleum & Convenience Marketers Association (VPCMA) has developed comprehensive seminars to inform you of the specific provisions of these important changes, and most importantly, to assure your company is in compliance with Virginia law - which will take effect just two weeks later.
Spotted Lanternfly Enforcement Started May 1. You Will be Ticketed if You Travel in PA without a Permit.
To prevent the spread of the Spotted Lanternfly and limit the damage it can do to agriculture, any truck that stops (other than for fuel or at a traffic signal) in quarantined areas of Pennsylvania and New Jersey must go through Lanternfly training and obtain a permit.

The training and permits are FREE and online; however, as of May 1, the Pennsylvania State Police began hard enforcement with roadside stops and penalties issued for non-compliance.

Go to https://bit.ly/2lGJQzQ for a list of the affected counties and how to obtain a permit and training.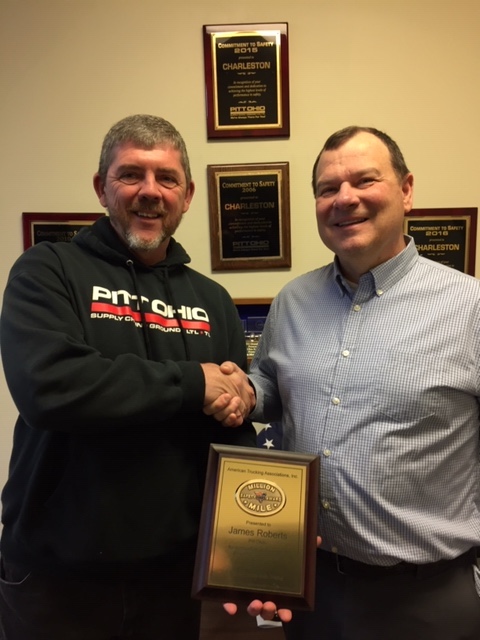 Congratulations Dan Roberts of Pitt Ohio for 24 years of safe driving and 2 million miles! With Rich Hazelet Western Operations, director,
The trucking industry offers significant career opportunities in West Virginia and across the nation. As most can understand, just about everything you possess or purchase was transported by truck. And goods shipped by truck are increasing as personal shopping trends have moved to a view-and-click online experience requiring more and more trucks to deliver the goods and products you use every day.